Voice-over artist with studio and professional equipment

As a native German voice-over artist with my own studio, I can quickly, professionally and affordable realize your orders in the fields of advertising, documentation, e-learning, audio books, audio guides, telephony, jingles, games, web videos, moderation and much more.
Professional Studioequipment
Neumann TLM-103
Microphone
beyerdynamik DT 770 Pro
Headsets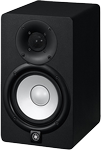 Yamaha HS5
Active studio monitor

Focusrite Scarlett 2i2
Audio interface

SPL Channel One MK II 2950
Microphone preamp
Soundproof whisper room
Can also be rented on request.
With or without sound engineer.